'Grass root' Citizen Diplomacy
Since 1984, the
Center for Citizen Initiatives
has built 1000s of person-to-person bridges between Russia and the USA. Here's what they did this year.
In May 2017 a volunteer delegation of 30 American citizens flew to Moscow to meet Russian citizens. They divided into groups for meetings in
10 locations
— Moscow, Volgograd, Kazan (Tatarstan), Krasnodar, Novosibirsk (Siberia), Yekaterinburg; the Crimean cities Simferopol, Yalta and Sevastopol; and gathered in St. Petersburg before returning home.
Observations and Facts
Western sanctions have hurt sectors of Russia's economy but encouraged agricultural production.
Some Russian oligarchs are making major infrastructure investments.
There has been a resurgence of [state] religion in Russia.
Russia increasingly looks east. [to China]
Russia is a capitalist country with a strong state sector.
There is some nostalgia for the former Soviet Union with its communist ideals.
There is a range of media supporting both government and opposition parties.
Public transportation is impressive.
President Putin is popular.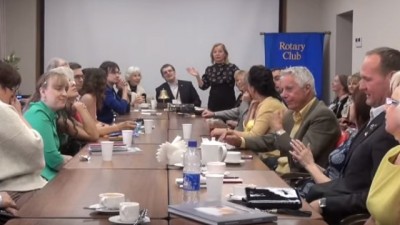 Russians and Americans meet in Yekaterinburg, June 2015

Current Political Tension
[Skepticism] about Russian "meddling" in the U.S. election.
There is a strong desire to improve relations with the U.S.
Western media reports about Crimea are hugely distorted.
Russians know and fear war.
Russians see themselves being threatened.
Russians want to de-escalate international tensions. [Met with Gorbachev]
Original article
With links, photos, ads: Russia Looks East, Capitalism with a Strong State Sector. Observations and Impressions from Russia, by Rick Sterling, Global Research, May 31, 2017
Reposted, without ads: Observations and Impressions from Russia, Center for Citizen Initiatives, San Francisco, June 4, 2017
More