As 'de-Militarization and de-Natizification' is taking place in Ukraine, as the USA is struggling with gun violence, mass shootings and police brutality, and as Canada is proposing to 'freeze…handguns' and other safety measures, Canadian Doukhobors will celebrate the 127th anniversary of their ancestors burning their guns in Russia in 1895.
In Russia 127 years ago, pacifist Doukhobors burned all their guns once and for all. No weapons. No killing. For their protest they were severely punished. Many died. In 1898 they were given sanctuary in Canada and military exemption. About 8,300 came.
For over a century, Canadian Doukhobors have commemorated their 1895 burning of guns as a major annual holiday. This year 'Peace Day' will be held on Sunday, June 26th.
1895 Burning of Guns. Painting recreated by Michael M. Voykin, 1974.
On display in the Doukhobor Discovery Centre, Castlegar, British Columbia.
'Peace Day' gatherings, also known as 'Peter's Day' will take place in community halls in Saskatchewan, Alberta and British Columbia. In Saskatoon, Saskatchewan at the Community Home, 525 Avenue I South, people will gather Sunday June 26th for a prayer service at 11 am, followed by a program and potluck. The Quakers, Tolstoy, the country they left and the country that saved them will be remembered.
Facebook.com/DSSaskatoon
, or contact elder Mae Popoff (email: maepopoff@sasktel.net).
Canadian Doukhobors fully support the long overdue new law to 'freeze' guns, but recommend banning all weapons of mass destruction. They continue to promote a nonkilling peace as the way to the future of humankind. For them, war is madness. Money spent on wars should be turned into new institutions for the betterment of humanity. Demilitarization is the way for our future survival.
CBC podcast: '50 years after the Napalm Girl photo, what do you see?
"1973 Photo Contest, World Press Photo of the Year". By Nick Ut, Associated Press, 1972.

The madness of war as a criminal act was brought to my attention by the famous Vietnam war photo "
The Terror of War
", showing
Phan Thi Kim Phuc
running down a road near Trảng Bàng, Vietnam, after a
napalm
bomb was dropped on the village of Trảng Bàng by a plane of the Vietnam Air Force. The village was suspected by United States Army forces of being a
Viet Cong
stronghold. Kim Phúc survived by tearing off her burning clothes and running with her 2 brothers and cousins.
Napalm that nearly killed Kim was developed in 1942 in the USA as an '
incendiary weapon
' to burn buildings, not people. Tears came to my eyes as I listened to Kim, a victim of war, who deserves a Nobel Peace Prize for revealing this horror of inhumanity. She spent 14 months in the hospital to regain her health from the terrible napalm fire she endured.
This 50-year-old image helps to educate us to work for a peaceful world. Kim says: 'Our responsibility is to make people know how horrible war is.' The truth of the photo is painful, but important to see her today as mother, as grandmother, and as a survivor.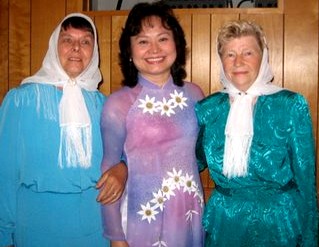 Posing with Kim on her left are Anne Chursinoff, Castlegar, and Lucy Tarasoff, Crescent Valley (right), who performed in the Friends in Unity and Krestova Ladies Kootenay Doukhobor women's combined choir. Photo from 'Our Way Home Reunion ... Something's Happening Here', Purple Mountain Poetry blog by Linda Lee Crosfield, 10 July 2006.
As we commemorate the 127th anniversary of the arms burning in 1895, let's not forget the pain of countless wars in human history — and the urgent need to stop this mass murder from continuing and threatening our civilization. Wars must stop once and for all. As concerned citizens, we all need to add our energies to this sacred duty of saving ourselves and succeeding generations from the scourge of wars. NATO should cease, as should NORAD!