From:
Marjorie Malloff
, Saskatchewan
While working on some of this historical material and then seeing how much still has to be done I am at times overwhelmed by the enormity of good material still to be processed and put some place. Do you find yourself in the same boat, or were you more successful and diligent? So much good stuff is locked in the Russian language, that I wonder what will become of it.
Looking forward to your thoughts and suggestions on this dilemma.
---
Answer
We need to digitize all documents and post them on the Internet, which provides low cost, wide distribution of searchable documents. Translating Russian documents is more difficult. This is time-consuming expensive work, but can be done if many donate time and funds.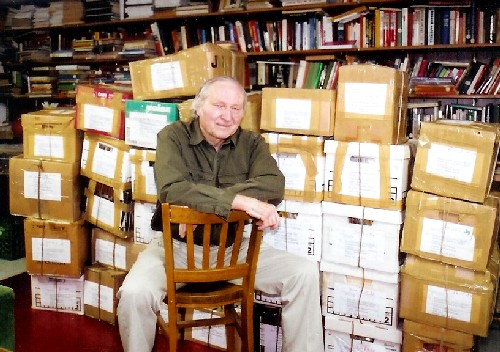 In my Ottawa study showing the last gift to the Saskachewan Archives, June 1, 2004.
For my part, I have donated much of my archival collection to the Saskatchewan Archives, which preserves a
Doukhobor collection
measuring 84.4 meters (277 feet) donated by 11 Doukhobor historians. 76% (64 meters) comprise the
Tarasoff Papers
. I trust the library to preserve the collection and provide access, but one needs to go to that library, documents are not digital and the Russian is not translated. Also, beginning in the 1950s, I have donated Russian and English materials to the Special Collections of the University of British Columbia in cooperation with librarian Jack McIntosh.
I still have a quantity of select archival materials at home for my day-to-day research and writing. For example, my on-going 49-volume
Notes on the Doukhobor Social Movement
now numbers 9,000 pages. Since the 1950s I have tens of thousands of photos, with over 1,400 Doukhobor historical photos donated to the Public Archives of British Columbia in Victoria, BC. At the age 80, I am still accumulating more text and photos, planning to produce more papers and an
e-book
.
For the past decade I have been posting much of my new materials and select old items on the Internet. I am pleased that
Google digitized 6 of my books
which you can search on line, but not yet preview, which requires cooperation with publishers.
But that does not address your question about older documents in Russian not in digital format, sitting on shelves, which cannot be found by searching the Internet for keywords.
Take inventory. Make it public.
Organize and archive the documents by major topics in public spaces (library, museum, USCC, ...) using a library filing system, like box and folder.
Describe and index each topic collection in a finding aid using many keywords.
Post all finding aids on the Internet, so they can be found by search engines and easily read on mobile devices.
Iskra is already organized, but its contents need to be posted, like we did with The Inquirer.
This gets you organized and public. Then each collection can be digitized by priority when possible. Handwritten documents must be typed or summarised. Russian
OCR
readers can convert most of the Russian text, but errors and alphabet updates must be corrected. Then digital Russian text can be
computer translated
, which requires extensive editing.
My webmaster, Andrei Conovaloff, researched some of this new technology for his own work and sent the following links to Jim Popoff in March 2012 to help with digitizing
Iskra
.
The new technology is spectacular and low cost, but volunteers and/or funds are needed to do the work, like the
Psalmist Project
. See how the
Brethren are archiving now
. Students at all levels can paritcipate for credit. There are numerous opportunities for graduate projects and degrees. I wish our society would divert war money to the archival preservation of translation, interviews, ethnographic field work, film recording and more.
If any reader has a suggestion or can help, please comment below.
More:
Questions and Answers, Comments